Monthly programs for 2017 – 2018
Here is the lineup of AGO meetings for this season, 2017-2018. Our meetings take place at various venues throughout the area and are typically the third Monday evening of the month although there are certainly exceptions. We generally begin with a punch bowl and social time at 6:30 p.m. followed by dinner at 7:00 p.m.
The cost for dinner is $15 and to encourage attendance by younger members the board has underwritten the cost of meals for all AGO members and guests under the age of 30.  The cost of these meals will come from a dedicated fund that has been recently established for this purpose.
The program portion of the meeting follows at 8:00 p.m. and all programs are open to the public. On occasion free-will offerings will be accepted at the conclusion of some evening programs.
Dinner reservations are requested by the Wednesday prior to the meeting and members will be called by the Executive Council. You may also make your reservation by emailing agodinner@grago.org or calling our Treasurer, Errol Shewman at 456-9232.
Sunday, September 24, 2017
5:00 p.m.
Basilica of St. Adalbert
654 Davis Ave. N.W.
Grand Rapids, MI 49504
A Choral Evensong with the Installation of Officers of the Grand Rapids, Holland, Muskegon, and Southwest Michigan Chapters of the American Guild of Organists. The Opening of the Year Banquet followed the service.
The Rev. Don E. Saliers, Phd – Chaplain of the American Guild of Organists, Homilist
 The Choir of Saint John's Episcopal Church, Detroit, Michigan
Dr. Huw Lewis, FRCO – Conductor
West Michigan Brassworks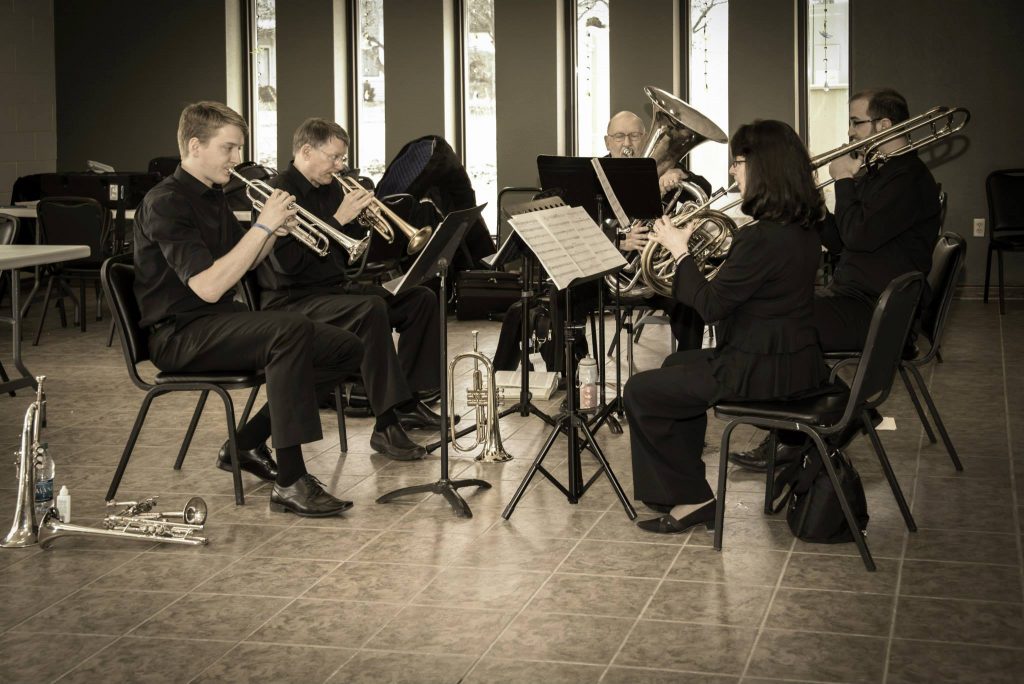 Sunday, October 29, 2017
3:00 p.m. and 6:00 p.m.
LaGrave Avenue Christian Reformed Church
107 LaGrave Avenue S.E.
Grand Rapids, MI 49503
Sing to the Lord a New Song
An ecumenical worship service commemorating the 500th anniversary of the Protestant Reformation will include participation by ministers and leaders from both Protestant and Catholic traditions, the Calvin Alumni Choir, Mystical Voices, organ, brass, timpani, and the premiere of a new commissioned psalm setting by Antonio Alonso and Adam Tice. These two identical services are co-sponsored by the Calvin Institute of Christian Worship, the Grand Rapids Chapter of the American Guild of Organists, and LaGrave Avenue CRC.
This service will be streamed live and you may watch it here: www.lagrave.org/live
Wednesday, November 8, 2017
9:30 a.m.
Central Reformed Church
10 College Avenue N.E.
Grand Rapids, MI 49503
Pipelines – A Program for Fourth Grade Students
Each year the Grand Rapids Chapter of the American Guild of Organists invites fourth grade students from the area to an hour long presentation of the pipe organ. This program was begun in 1995 and has grown to be a very popular feature among fourth grade teachers and students. In recent years there have been approximately 700 students at these programs. You may read more about Pipelines here: PIPELINES
Sunday, November 19, 2017
4:00 p.m.
First (Park) Congregational Church
10 East Park Place N.E.
Grand Rapids, MI 49503
Organ recital featuring concert organist Raúl Prieto Ramírez
With words such as "sizzling" and "transcendent" used to describe his performances, Raúl Prieto
Ramírez is the first Spanish organist in recent times to establish himself among the elite of the
international pipe organ scene. His global schedule takes him to major music festivals, churches
and cathedrals, concert halls (from Russia to major venues through Europe and the U.S.), for
lectures at universities such as Indiana University and the Moscow Conservatory, and as jury
member at international competitions.
After studies in Spain, Mr. Ramírez moved to Stuttgart to study organ with Ludger Lohmann
and, concurrently, piano with Leonid Sintsev at the Rimsky-Korsakov Conservatory in St.
Petersburg. He also studied organ under Marie-Claire Alain, Guy Bovet, Eric Lebrun, Lionel
Rogg, and Luigi Ferdinando Tagliavini. His compositions for chamber ensemble, pipe organ, and
solo instruments have been broadcast throughout Spain and his concerto for organ and orchestra
premiered in Barcelona. His transcriptions of Liszt's piano études and Mephisto Waltz and his
interpretations of the music of Buxtehude, Bach, Franck, and Reger have been highly praised by
audience and critics alike.
In September 2013, Mr. Ramírez was appointed the organist-in-residence at Sursa Concert Hall
and the professor of organ at Ball State University, Indiana. He continues as the artistic director
of the annual summer International Organ Festival in Barcelona. Mr. Ramírez has been widely
recorded and interviewed for radio and television in several European countries and in the U.S.
His first two compact discs, on the Brilliant Classics label, were recorded at Milan Cathedral in
Italy (music of Franck, Liszt, Reger, and Saint-Saëns) and at the Palau de la Música Catalana in
Barcelona (music for piano and organ duet). In June 2016, Mr. Ramirez and his wife, Spanish
pianist Maria Teresa Sierra, were featured duo artists at the American Guild of Organists'
national convention in Houston.
Raúl Prieto Ramírez is represented in North America exclusively by Phillip Truckenbrod
Concert Artists, LLC.
Monday, November 20, 2017
6:30 p.m  Punchbowl
7:00 p.m.  Dinner
8:00 p.m.  Program
First (Park) Congregational Church
10 East Park Place N.E.
Grand Rapids, MI 49503
Masterclass with organist Raúl Prieto Ramírez
Sunday, January 14, 2018
3:00 p.m.
Grace Episcopal Church
1815 Hall Street S.E
Grand Rapids, MI 49506
Recital featuring organist Peter Sykes.
Peter Sykes is one of the most distinguished and versatile keyboard artists performing today.
On Sunday afternoon, January 14, we were treated to a varied and well played recital by Peter Sykes on Grace Church's Noack's 1981, Op. 94 56 rank instrument. Works of Buxtehude,  Woodman, Gade, Scheidt, Chaumont, and Bach showed the versatility of tone this instrument offers.
While Sykes is well known as an interpreter of early music, this program demonstrated that he is equally at home with modern and romantic music, as well. The program was beautifully rendered and his stunning technique was always evident. The program was open to the public, free of charge, and a good turnout on a very chilly afternoon in Michigan resulted.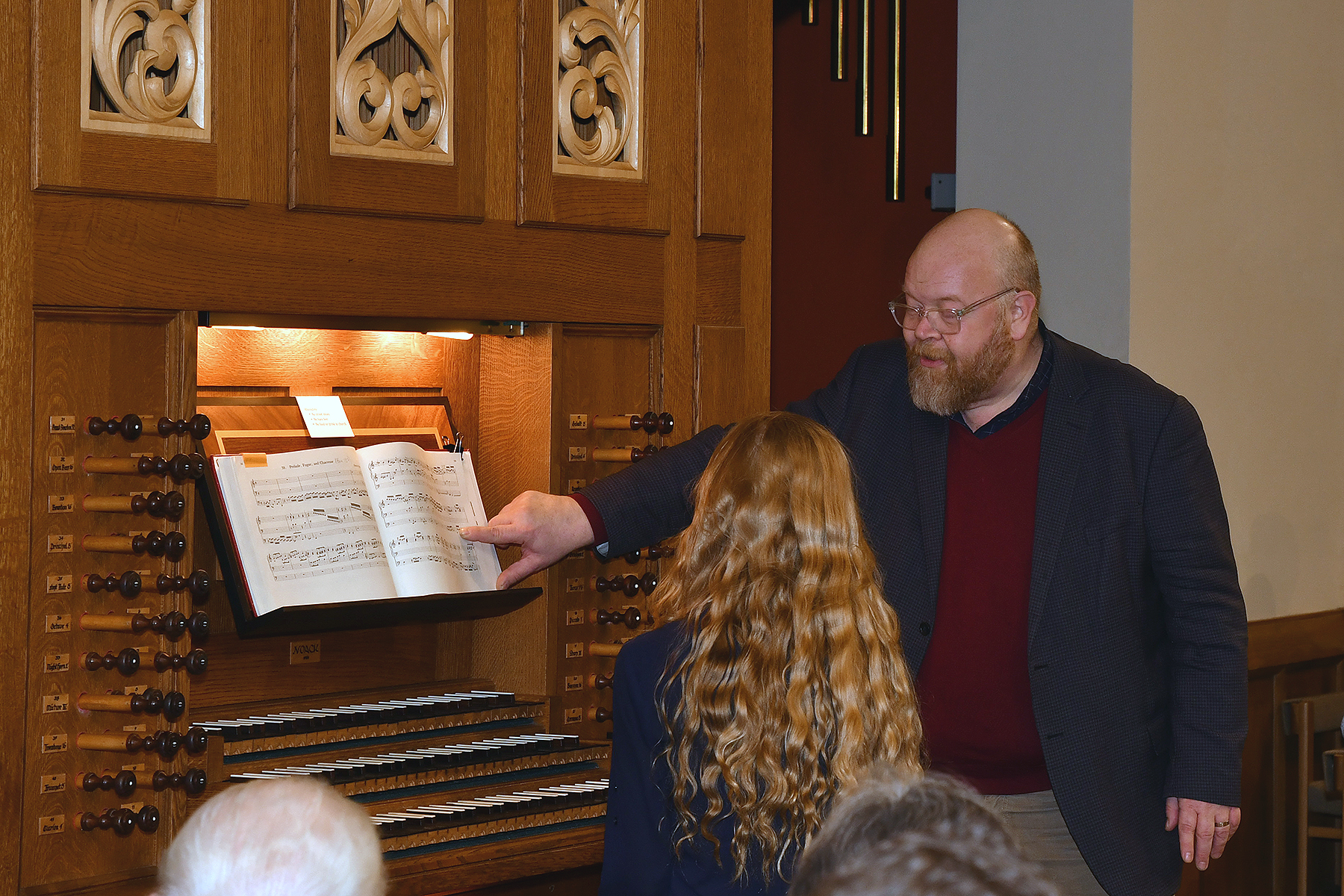 Monday, January 15, 2018
6:30 p.m.  Punch Bowl
7:00 p.m.  Dinner
8:00 p.m.  Program
Grace Episcopal Church
1815 Hall Street S.E
Grand Rapids, MI 49506
Masterclass with organist Peter Sykes. 
At the Monday evening members' meeting, Sykes worked with Bethany Dame, a high school junior, on Buxtehude's Prelude, Fugue, and Chaconne, BuxWV 137. The masterclass was very informative on methods of articulation and ways to practice that would achieve those results. His ideas on shaping a phrase and directions were specific and offered specific ways to attain the result. The student, who was well prepared and able to mimic Sykes' ideas, had amazing abilities. The suggestions for practice and musical playing provided significant ideas for the GRAGO members to add to their repertoire of practice habits.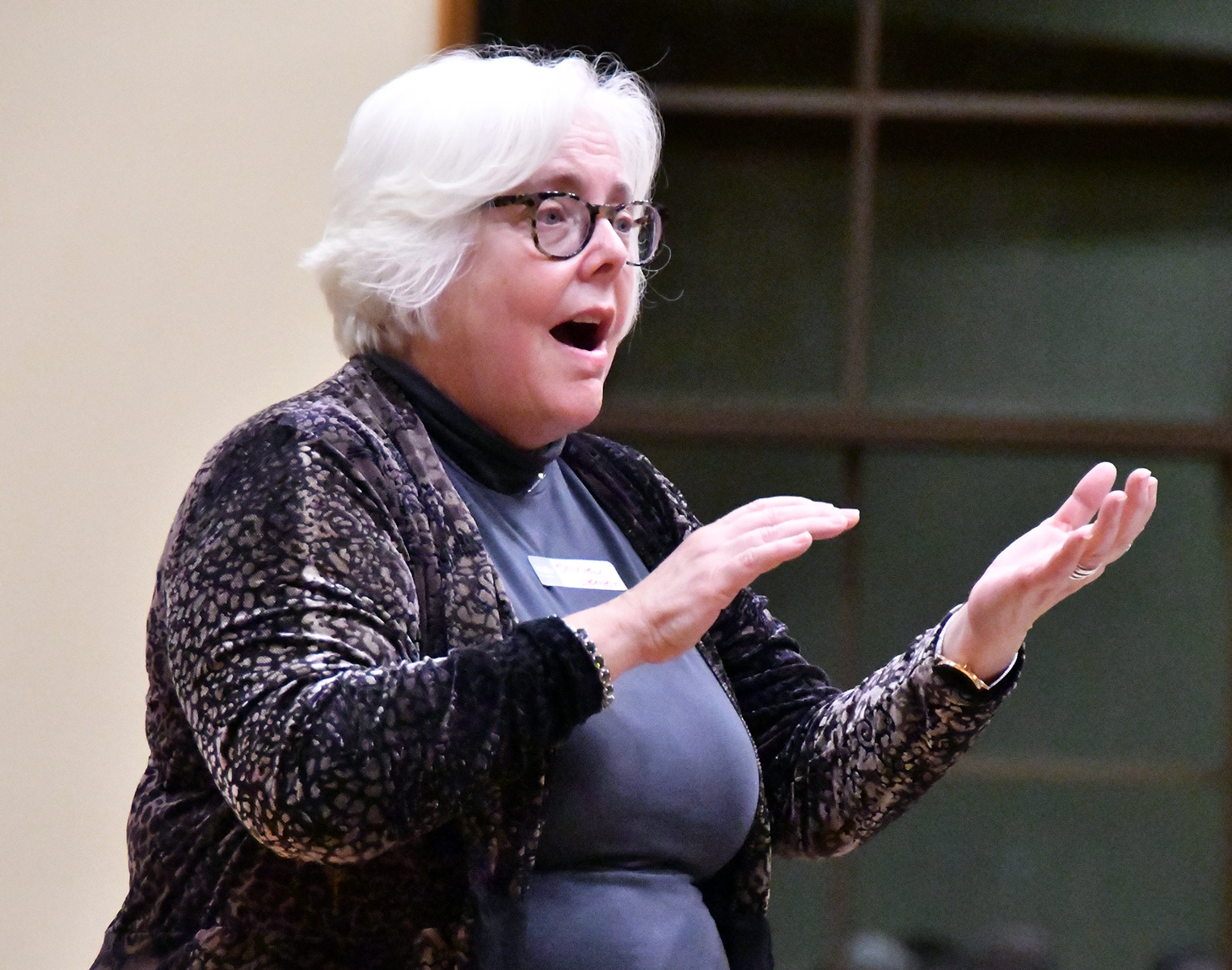 Monday, February 19, 2018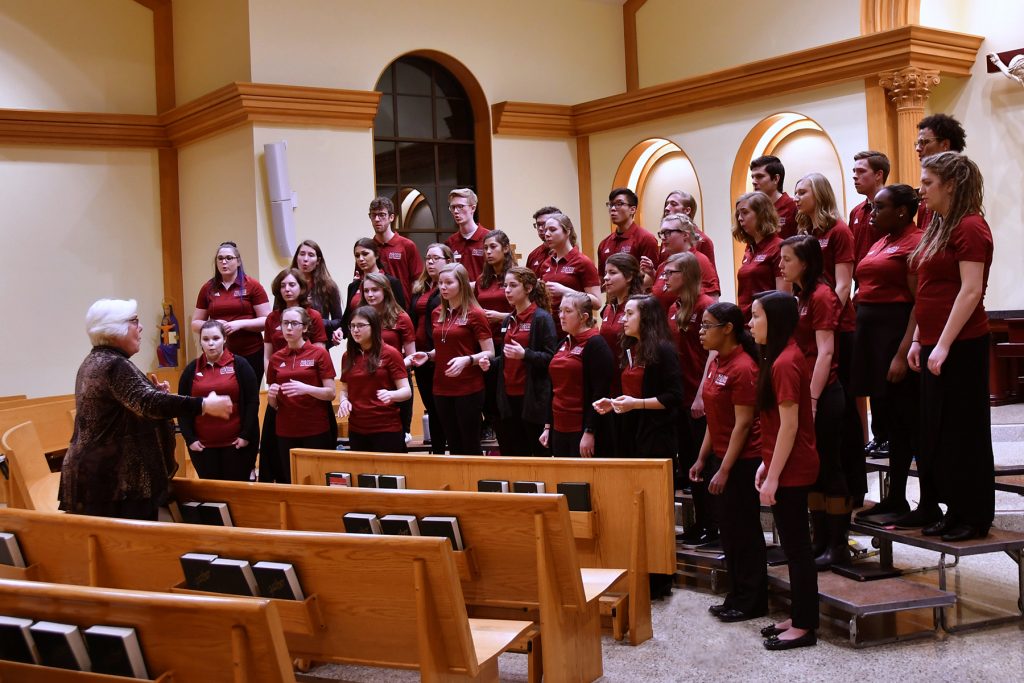 6:30 p.m.  Punch Bowl
7:00 p.m.  Dinner
8:00 p.m.  Program
Aquinas College
1700 Fulton Street S.E
Grand Rapids, MI 49506
Choral Workshop featuring Shirley Lemon
The Grand Rapids Chapter of the American Guild of Organists meeting was held at Aquinas College in Our Lady Seat of Wisdom Chapel, completed in the fall of 2017.
The College Chorus with guest clinician Shirley Lemon presented four pieces which had been prepared by the choir under Dr. Mark Webb, their director, with Jonathan Tuuk as organist. Ms. Lemon, a member of the choral staff at Grand Valley State University presented her ideas and techniques to the GRAGO which she felt might be useful to those working with church choirs. As the students had not rehearsed with her, there were surprises, which they handled with facility.
The pieces that were chosen for the event included Handel's "And the Glory of the Lord", Philip Stopford's "Do Not Be Afraid", Harold Friedell's "Draw Us in the Spirit Tether", and Paul French's, "The Greater Gifts." Topics such as diction, phrasing, tone production and agility were addressed. The College Chorus performed admirably in the lovely acoustics of this new space.
A dinner was held before the meeting in the Aquinas dining hall with Aquinas' liturgical music students present as our guests.
Larry G. Biser, Photo by Dennis Fleisher
Monday, March 19, 2018
6:30 p.m.  Punch Bowl
7:00 p.m.  Dinner
8:00 p.m.  Program
Calvin College Chapel
835 Knollcrest Circle S.E.
Grand Rapids, MI 49546
Church Music Today: A conversation with James and Marilyn Biery, composers
The Grand Rapids Chapter hosted composers Jim and Marilyn Biery from Detroit, Michigan for the March meeting. The Bierys took turns sharing their own repertoire and the work of other composers for organ and choir. They also shared with us their collaborative projects in the ever evolving genre of sacred opera. A highlight of the evening was Jim's performance of his "Elegy" written in memory of Roy Johnson. In addition to the well prepared literature presentation, Jim and Marilyn effectively communicated their deep and  fervent passion for continuing to express their own voices as artists while at the same time taking the pulse of the local church and how their people might best be served. The evening was an inspiration to say the least. 
Monday, April 16, 2018
6:30 p.m. Dinner
7:30 p.m. Competition

First (Park) Congregational Church
10 East Park Place N.E.
Grand Rapids, MI 49503
Annamae Rotman Young Organist Competition
The GRAGO Meeting in April was our annual Annamae Rotman Young Artists Competition. Each of the four participants played several pieces for the panel of judges consisting of Dr. Gregory Crowell, Dr. Barbara Dulmage and Dr. Carrie Groenewold. 
The evening began with a delicious dinner in the church dining room and was followed by the Young Artists Competition. The first participant was Nicholas Rozendall, a freshman in high school, and a student of Zachary DeBruine.  Contestant two was Hope College freshman, Brooke Van Wyk, a student of Huw Lewis. Third on the program was Kaili Prins, a home-schooled student studying organ with Dr. Howard Slenk. The Final participant was Jonathan Bading, a Hope College senior who very recently had played his senior recital and also studies with Huw Lewis. 
The competition was founded and underwritten by Dr. Richard Rotman in honor of his mother, Annamae Rotman. It was hosted by Park Congregational Church. The results of the playing were: the high school prize being given to Nicholas Rozendaal. second place to Kaili Prins, and first place to Jonathan Bading.
BACK ROW: Dr. Greg Crowell, Dr. Barbara Dulmage, and Dr. Carrie Groenewold
FRONT ROW: Dr. Richard Rotman, Kaili Prins, Jonathan Bading, Brooke Van Wyk, Nicholas Rozendaal, and Annamae Rotman
Monday, May 21, 2018
6:30 p.m.  Punch Bowl
7:00 p.m.  Dinner
8:00 p.m.  Program
St. Francis de Sales Catholic Church
171 West 13th Street
Holland, MI 49423
Hymn Festival 
The Grand Rapids Chapter of the American Guild of Organists were the guests of the NPMGR chapter at St. Francis de Sales Church, Holland, Michigan, on May 21 for "A Hymn Sing – 50 Years of Hymn Tunes That Have Helped Redefine Hymnody."
The program began with three guild chapters, Grand Rapids, Holland and Muskegon joining the Grand Rapids chapter of the National Pastoral Musicians for a delightful dinner in the undercroft of the church. Following dinner, the group moved to the sanctuary where there are wonderful acoustics for such a program. Robert J. Batastini, narrator of the event, announced that the purpose of the program was to reacquaint the group with this hymnody in an informal presentation. He then explained how the hymns and texts were united and gave brief sketches of each composer before we sang the hymns. Adept and creative accompaniments were provided by organists Rhonda Sider Edington, (Dean, Holland Chapter), Phillip W. Konczyk (Director of Music and Liturgy, St. Francis de Sales), and Peter Kurdziel (Dean, Grand Rapids Chapter). They were joined on several hymns by Grace Byrd, violist, and Marcelle Marcelletti, bassist. Both the Allen and the Pels organs of the church were employed.
Composers represented were: Calvin Hampton, David Hurd, Richard Proulx. Sally Ann Morris, Skinner Chavez Melo, Hal H. Hopson, Carl F. Schalk, Ronald Arnatt, and Richard S. Thatcher. While a number of the hymns presented have been adopted in newer hymnals, many were new to the audience and were sung reflectively or with gusto by the assembly, as required. It was a great opportunity to either renew your acquaintance with a hymn or to hear it for the first time. Thanks to all who made this program a resounding success.