Monthly programs for 2017 – 2018
Here is the lineup of AGO meetings for this season, 2017-2018. Our meetings take place at various venues throughout the area and are typically the third Monday evening of the month although there are certainly exceptions. We generally begin with a punch bowl and social time at 6:30 p.m. followed by dinner at 7:00 p.m.
The cost for dinner is $15 and to encourage attendance by younger members the board has underwritten the cost of meals for all AGO members and guests under the age of 30.  The cost of these meals will come from a dedicated fund that has been recently established for this purpose.
The program portion of the meeting follows at 8:00 p.m. and all programs are open to the public. On occasion free-will offerings will be accepted at the conclusion of some evening programs.
Dinner reservations are requested by the Wednesday prior to the meeting and members will be called by the Executive Council. You may also make your reservation by emailing agodinner@grago.org or calling our Treasurer, Errol Shewman at 456-9232.
Sunday, September 24, 2017
5:00 p.m.
Basilica of St. Adalbert
654 Davis Ave. N.W.
Grand Rapids, MI 49504
A Choral Evensong with the Installation of Officers of the Grand Rapids, Holland, Muskegon, and Southwest Michigan Chapters of the American Guild of Organists. The Opening of the Year Banquet followed the service.
The Rev. Don E. Saliers, Phd – Chaplain of the American Guild of Organists, Homilist
 The Choir of Saint John's Episcopal Church, Detroit, Michigan
Dr. Huw Lewis, FRCO – Conductor
West Michigan Brassworks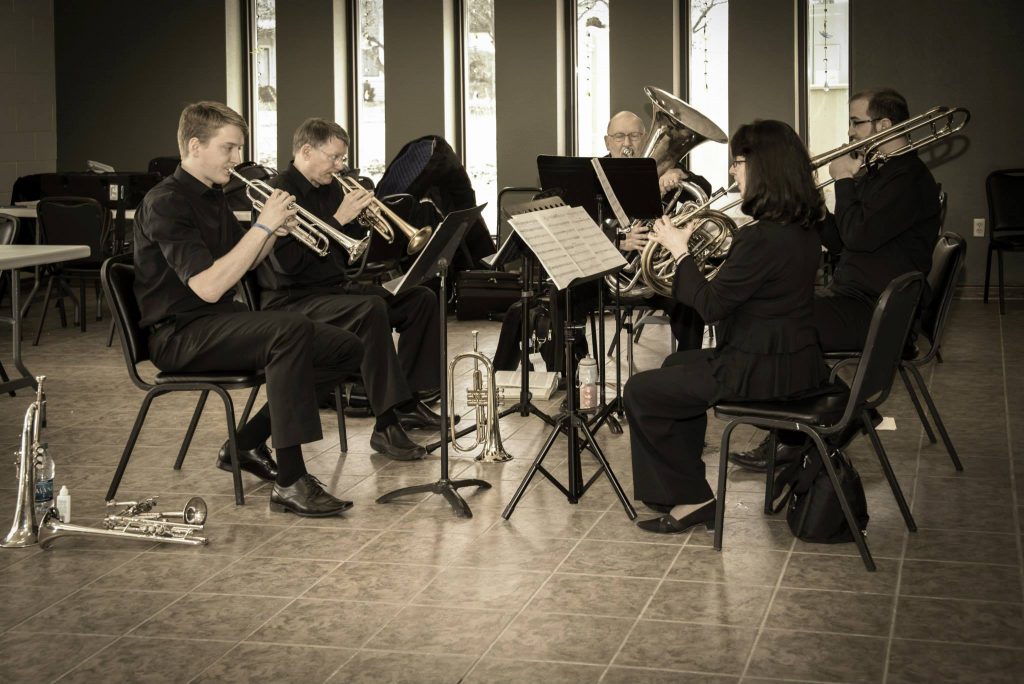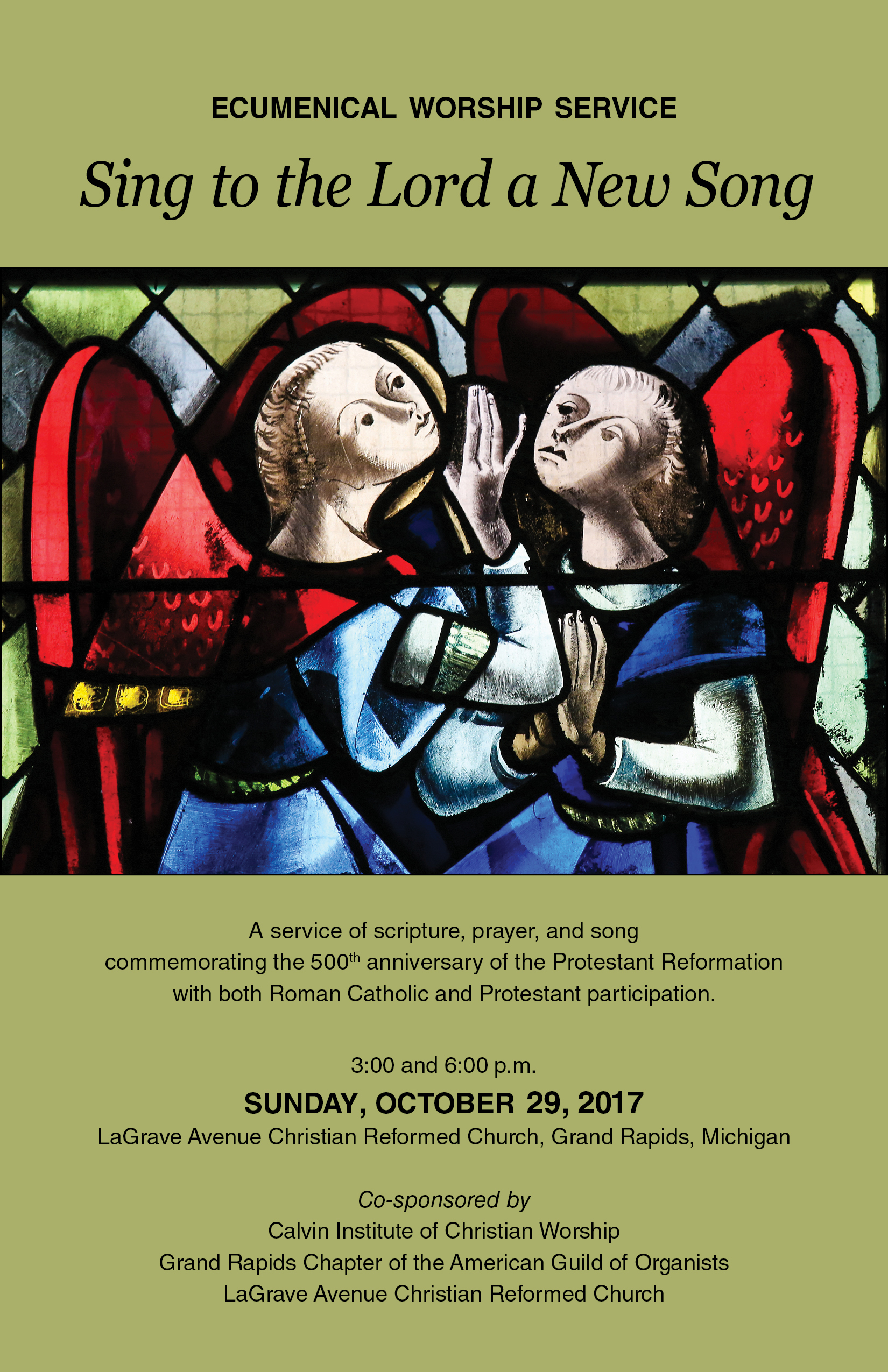 Sunday, October 29, 2017
3:00 p.m. and 6:00 p.m.
LaGrave Avenue Christian Reformed Church
107 LaGrave Avenue S.E.
Grand Rapids, MI 49503
Sing to the Lord a New Song
An ecumenical worship service commemorating the 500th anniversary of the Protestant Reformation will include participation by ministers and leaders from both Protestant and Catholic traditions, the Calvin Alumni Choir, Mystical Voices, organ, brass, timpani, and the premiere of a new commissioned psalm setting by Antonio Alonso and Adam Tice. These two identical services are co-sponsored by the Calvin Institute of Christian Worship, the Grand Rapids Chapter of the American Guild of Organists, and LaGrave Avenue CRC.
This service will be streamed live and you may watch it here: www.lagrave.org/live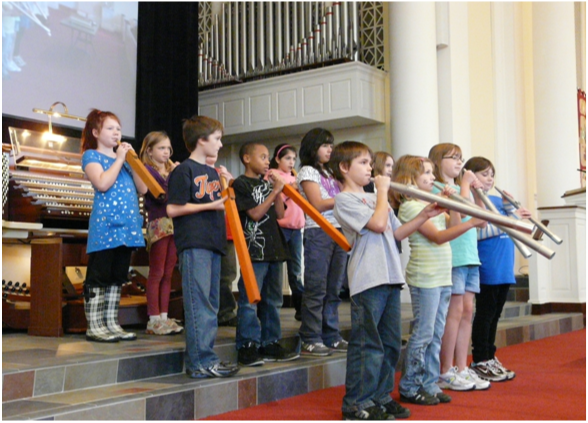 Wednesday, November 8, 2017
9:30 a.m.
Central Reformed Church
10 College Avenue N.E.
Grand Rapids, MI 49503
Pipelines – A Program for Fourth Grade Students
Each year the Grand Rapids Chapter of the American Guild of Organists invites fourth grade students from the area to an hour long presentation of the pipe organ. This program was begun in 1995 and has grown to be a very popular feature among fourth grade teachers and students. In recent years there have been approximately 700 students at these programs. You may read more about Pipelines here: PIPELINES
Sunday, November 19, 2017
4:00 p.m.
First (Park) Congregational Church
10 East Park Place N.E.
Grand Rapids, MI 49503
Organ recital featuring concert organist Raúl Prieto Ramírez
With words such as "sizzling" and "transcendent" used to describe his performances, Raúl Prieto
Ramírez is the first Spanish organist in recent times to establish himself among the elite of the
international pipe organ scene. His global schedule takes him to major music festivals, churches
and cathedrals, concert halls (from Russia to major venues through Europe and the U.S.), for
lectures at universities such as Indiana University and the Moscow Conservatory, and as jury
member at international competitions.
After studies in Spain, Mr. Ramírez moved to Stuttgart to study organ with Ludger Lohmann
and, concurrently, piano with Leonid Sintsev at the Rimsky-Korsakov Conservatory in St.
Petersburg. He also studied organ under Marie-Claire Alain, Guy Bovet, Eric Lebrun, Lionel
Rogg, and Luigi Ferdinando Tagliavini. His compositions for chamber ensemble, pipe organ, and
solo instruments have been broadcast throughout Spain and his concerto for organ and orchestra
premiered in Barcelona. His transcriptions of Liszt's piano études and Mephisto Waltz and his
interpretations of the music of Buxtehude, Bach, Franck, and Reger have been highly praised by
audience and critics alike.
In September 2013, Mr. Ramírez was appointed the organist-in-residence at Sursa Concert Hall
and the professor of organ at Ball State University, Indiana. He continues as the artistic director
of the annual summer International Organ Festival in Barcelona. Mr. Ramírez has been widely
recorded and interviewed for radio and television in several European countries and in the U.S.
His first two compact discs, on the Brilliant Classics label, were recorded at Milan Cathedral in
Italy (music of Franck, Liszt, Reger, and Saint-Saëns) and at the Palau de la Música Catalana in
Barcelona (music for piano and organ duet). In June 2016, Mr. Ramirez and his wife, Spanish
pianist Maria Teresa Sierra, were featured duo artists at the American Guild of Organists'
national convention in Houston.
Raúl Prieto Ramírez is represented in North America exclusively by Phillip Truckenbrod
Concert Artists, LLC.
Monday, November 20, 2017
6:30 p.m  Punchbowl
7:00 p.m.  Dinner
8:00 p.m.  Program
First (Park) Congregational Church
10 East Park Place N.E.
Grand Rapids, MI 49503
Masterclass with organist Raúl Prieto Ramírez
Sunday, January 14, 2018
3:00 p.m.
Grace Episcopal Church
1815 Hall Street S.E
Grand Rapids, MI 49506
Recital featuring organist Peter Sykes.
Peter Sykes is one of the most distinguished and versatile keyboard artists performing today.
His playing has variously been called "compelling and moving," "magnificent and revelatory," and "bold, imaginative, and amazingly accurate." He has appeared in recital for the American Guild of Organists, the Southeastern Historical Keyboard Society, the Organ Historical Society, American Institute of Organbuilders, International Society of Organbuilders, at the Library of Congress, Boston Early Music Festival, Aston Magna Festival, New England Bach Festival, Portland Chamber Music Festival, New Hampshire Music Festival, and with Ensemble Project Ars Nova, The King's Noyse, Musica Antiqua Köln, Blue Heron, and throughout the United States, including an appearance in Boston's Jordan Hall as a featured soloist in the Bank of Boston Emerging Artists Celebrity Series. He is frequently heard on the nationally syndicated radio program "Pipedreams."  Appearances include an all-Bach inaugural recital on a new organ built by Fritz Noack for the Langholtskirkja in Reykjavik, Iceland, Bach's Goldberg Variations for the Cambridge Society for Early Music and at Music Sources in Berkeley, CA, Manuel de Falla's Harpsichord Concerto with the Chameleon Arts Ensemble, the Schumann Piano Quintet on original instruments with the Van Swieten Quartet, Samuel Barber's organ concerto Toccata Festiva and a pedal piano recital of works of Schumann and Alkan at Southern Adventist University in Collegedale, Tennessee. In March 2004 he was given the honor of performing the dedication recital on the newly restored 1800 Tannenberg two-manual organ in Old Salem, North Carolina, an event featured on the nationally broadcast television show CBS Sunday Morning. He was a member of the continuo team for the Boston Early Music Festival opera productions of Cavalli's Ercole Amante, Lully's Thésée and Psyché and Conradi's Ariadne. He also appears regularly in concert and on recordings with Boston Baroque and Aston Magna. With Christa Rakich he created Tuesdays With Sebastian, an independent two-year benefit concert series in which he and Ms. Rakich performed the entire keyboard works of Johann Sebastian Bach for the organ and harpsichord in thirty-four recitals. He has premiered new works by Dan Locklair, James Woodman, and Joel Martinson, and has performed well over twenty-five dedication recitals for new or rebuilt organs. He also performs frequently on the clavichord and was one of two featured players on this instrument at the 2009 Boston Early Music Festival. In May 2011 he performed clavichord recitals for the British and Dutch Clavichord Societies in London and Amsterdam, at Fenton House in London and the Cobbe Collection at Hatchlands, and for the "Party in the City" night of concerts as part of the International Music Festival in Bath. In May and June 2014 he returned to Europe for concerts including Domaene Dahlem in Berlin and St. Remi Basilica in Reims.
His solo recordings include J.S. Bach's complete Leipzig Chorales recorded on the Noack organ of the Langholtskirkja in Reykjavik, From The Heartland – Two Nordlie Organs in South Dakota,  Harpsichord Music of Couperin and Rameau, A Nantucket Organ Tour, MAXimum Reger: Favorite Organ Works, and Modern Organ Music, a disc of music by Hindemith, Heiller, Pinkham, Woodman, and Icelandic composers on the Noack organ in the Neskirkja in Reykjavik. His bestselling recording of his organ transcription of Holst's orchestral suite The Planets was named Best of 1996 by Audio Review, a Super CD by Absolute Sound in 1999, and garnered accolades in every review. He appears on the Cambridge Bach Ensemble recording The Muses of Zion, performing organ works of Tunder and Buxtehude on the Fisk meantone organ of Wellesley College, the Music from Aston Magna recording of the oratorio The Triumph of Time and Truth, in which he performs the first known organ concerto movement of Handel, a recording of the organ concerto Cymbale of Julian Wachner, and the Grammy-nominated Boston Baroque recordings of Handel's Messiah, Bach's B-Minor Mass,  and Monteverdi's Vespers. His most recent solo recordings include the dedication recital on the Tannenberg organ in Old Salem, available on the Raven label, an all-Bach recording on an original Schiedmayer clavichord, also on the Raven label, and the complete Bach harpsichord partitas, available on the Centaur label. Soon to appear will be Book I of Bach's Well-Tempered Clavier and the complete Bach sonatas for violin and obbligato harpsichord with Daniel Stepner.
He holds degrees from the New England Conservatory, where he studied with Gabriel Chodos, Blanche Winogron, Mireille Lagacé, Robert Schuneman, and Yuko Hayashi, and Concordia University in Montreal, where he studied with Bernard Lagacé. In 1978 he was winner of the Chadwick Medal from the New England Conservatory for outstanding undergraduate achievement; in the same year, he was a winner of the school's annual concerto competition, playing the Harpsichord Concerto of Frank Martin.  In 1983 he was the winner of the Boston Chapter American Guild of Organists Young Artists Competition; in 1986, winner of the Second International Harpsichord Competition sponsored by the Southeastern Historical Keyboard Society.  He was the 1993 laureate of the Erwin Bodky Award for excellence in early music performance.  In May 2005 he received the Outstanding Alumni award from the New England Conservatory for career achievement since graduation. In May 2011 he was honored by the St. Botolph Club Foundation with its Distinguished Artist Award, a major gift awarded annually to an artist who has demonstrated outstanding talent and an exceptional diversity of accomplishment; previous recipients include painter Edward Hopper, poets Elizabeth Bishop and Stanley Kunitz, sculptor Alexander Calder, and writers George V. Higgins, Annie Dillard, and Sissela Bok. The award letter characterized him as "one of the major musical intellects and imaginations of our time."
In demand as a teacher and mentor of aspiring professional performers, he is Associate Professor of Music and Chair of the Historical Performance Department at Boston University. In the spring of 2014 he was invited to join the faculty of the Historical Performance Department at the Juilliard School of Music in New York City as its principal instructor of harpsichord. Since 1985 he has served as Director of Music at First Church in Cambridge, Congregational. He is Chair of the Organ Library Committee of the Boston Chapter of the American Guild of Organists and has been adjudicator for competitions sponsored by the American Guild of Organists, the Royal Canadian College of Organists, and the Bach International Harpsichord Festival in Montreal as well as the Broadwood Harpsichord Competition in London and the Miami International Organ Competition. A member of the board of the Cambridge Society for Early Music, he is a founding board member and current president of the Boston Clavichord Society.
Monday, January 15, 2018
6:30 p.m.  Punch Bowl
7:00 p.m.  Dinner
8:00 p.m.  Program
Grace Episcopal Church
1815 Hall Street S.E
Grand Rapids, MI 49506
Masterclass with organist Peter Sykes.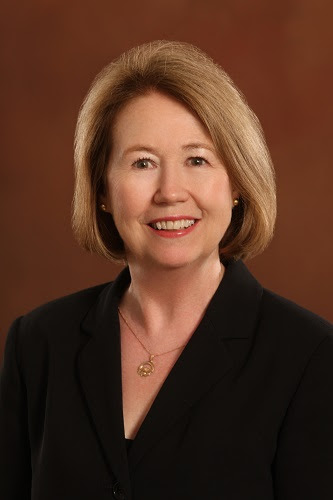 Monday, February 19, 2018

6:30 p.m.  Punch Bowl
7:00 p.m.  Dinner
8:00 p.m.  Program
Aquinas College
1700 Fulton Street S.E
Grand Rapids, MI 49506
Choral Workshop: Dr. Nina-Nash Robertson
Dr. Nina Nash-Robertson, Director of Choral Activities is recently retired from Central Michigan University.  During her tenure, Nina has directed the Concert Choir, Chamber Singers and the Festival Chorus in addition to teaching choral literature and conducting.  Before joining CMU, Nina spent 11 years teaching K-12 music in Wisconsin where she also directed four high school choirs. 
Nina's colleagues in the American Choral Directors Association (ACDA) of Michigan awarded her the 2013 Maynard Klein Choral Award, recognizing her artistic excellence and lifetime of leadership in the choral music field.  Nina served on the ACDA board of directors for 20 years, two of those as president, and made a powerful impact as Dr. Michael Mitchell, President, ACDA-Michigan and Director of Choral Activities at Oakland University testifies, "The ACDA was proud to present Nina with the Maynard Klein Award.  She has been a leader in our profession for many years at the state, national and international levels.  Nina is a wonderful teacher and a respected conductor who I am proud to call my friend and colleague."
On campus, Nina received the CMU Excellence in Teaching Award.  Her dedication to her students is unwavering, says former graduate assistant, Ted Brauker, Director of Choral Activities, Ranger College. "Nina taught me so much about what it means to be a musician.   She was a professor that always strived for musical excellence and sensitivity.  Whether a student was a 70-year-old Festival Chorus member or a freshman music student, she treated both with respect, genuine care, and a gentle hand.  I think about her teaching every time I get in front of students of my own."  Allan Riggs, a 20-year member in the Festival Chorus echoed Ted's sentiments.  "Nina directed community and CMU singers from teenagers to octogenarians, and connected with each of us.  She taught us both choral music and the history of the pieces.  She has enriched the lives of hundreds, probably thousands of singers." 
Monday, March 19, 2018
6:30 p.m.  Punch Bowl
7:00 p.m.  Dinner
8:00 p.m.  Program
Calvin College Chapel
835 Knollcrest Circle S.E.
Grand Rapids, MI 49546
Church Music Today: A conversation with James and Marilyn Biery, composers
James Biery (born 1956) is an American organist who is Minister of Music at Grosse Pointe Memorial Church in Grosse Pointe Farms, Michigan. He was Director of Music at the Cathedral of St. Paul in St. Paul, Minnesota from 1996-2010. Biery was featured regularly as a performer on the Cathedral's monthly concerts. He and his wife, Marilyn, shared the organ and conducting duties at the Cathedral. Before moving to Minnesota, James Biery was Director of Music at the Cathedral of St. Joseph in Hartford, Connecticut, where he performed often on the 140 rank Austin organ.
Biery was educated at Northwestern University, where he earned Bachelor and Master of Music degrees in Organ Performance. Mr. Biery also holds the Choirmaster and Fellowship Certificates of the AGO. In 2006, 2007, 2008 James Biery was awarded the ASCAP Plus award for his compositions. In 1986, he was the prize-winner for the highest score on the FAGO exam administered by the American Guild of Organists. The winner of several organ competitions, he was named Second Prize Winner in the 1980 AGO National Open Competition in Organ Playing.
Biery developed his compositional skills from two disciplines: years of study of the organ and its literature and intense scrutiny of the orchestral scores of numerous composers whose music he transcribed for organ duet and organ solo. As an organist, Biery has distinguished himself by performing much of the repertoire of the nineteenth and early twentieth centuries. His facility at the organ combined with his demonstrated ability to perform and study a vast amount of literature has given Biery a firm basis upon which to compose for the instrument. His organ and choral compositions are published by MorningStar Music Publishers, Concordia, Augsburg-Fortress, GIA, and Oregon Catholic Press. He has recorded for AFKA and Naxos.
Marilyn Biery, AAGO, ASCAPlus award winner, was born in Elmhurst, Illinois, in 1959. Her childhood years were spent in Sandwich, Illinois, where her father, a Presbyterian minister, was pastor of The Federated Church.  Her organ training began there, with Norma Washburn Kentner, a student of Robert Reeves at Northern Illinois University.  She is a Pi Kappa Lambda graduate of Northwestern University with Bachelor and Master of Music degrees in Organ Performance, where she studied with Richard Enright and Grigg Fountain.  In 1982 she was a finalist in the National Open Competition in Organ Playing, sponsored by the American Guild of Organists.  Marilyn has served as Director of Music Ministries at The First Church of Christ in Hartford, Connecticut, Associate Director of Music at the Cathedral of Saint Paul in Saint Paul, Minnesota, Minister of Music at Metropolitan United Methodist Church, Detroit, Michigan, and is currently Music Director/Organist at Fort Street Presbyterian Church in Detroit.  She holds the degree of Doctor of Musical Arts in organ performance from the University of Minnesota, and has been on the music faculty at Wayne State University.  Marilyn is a former Director of the National Young Artists Competition in Organ Performance, sponsored by the AGO. Marilyn has collaborated with a number of American composers, including Libby Larsen, David Evan Thomas, Stephen Paulus, Pamela Decker and James Hopkins.  A series of her articles on American Organ Music was printed in The American Organist from July 2000 to June 2003; other articles have been published in The Diapason, on composer Harold Stover, organ professor Grigg Fountain, and the late Roy Johnson, former organ professor at the University of Arizona.
Monday, April 16, 2018
6:30 p.m. Dinner
7:30 p.m. Competition

First (Park) Congregational Church
10 East Park Place N.E.
Grand Rapids, MI 49503
Annamae Rotman Young Organist Competition
For information about the Annamae Rotman Competition go to this page: Annamae Rotman Competition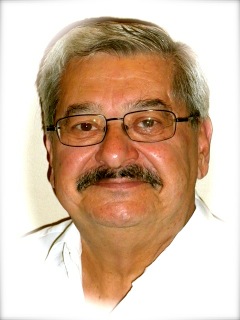 Monday, May 21, 2018
6:30 p.m.  Punch Bowl
7:00 p.m.  Dinner
8:00 p.m.  Program
St. Francis de Sales Catholic Church
171 West 13th Street
Holland, MI 49423
Hymn Festival with Bob Batastini
Robert J. Batastini is the retired vice president and senior editor of GIA Publications, Inc., Chicago. Though retired from management, he maintains an active role at GIA. Bob has over sixty years of service in pastoral music ministry, having served as director of music in several parishes of the Archdiocese of Chicago and one in the Diocese of Joliet. He served as executive editor and project director for the Worship hymnals (three editions), Gather hymnals (three editions), Catholic Community Hymnal, and as executive editor of RitualSong. After retirement, he served as project director for Lead Me, Guide Me—Second Edition, and served on the editorial committees for Worship—Fourth Edition, and Oramos Cantando/We Pray in Song. He presently serves as coordinator on two Protestant ecumenical hymnal projects: one bilingual, in the spirit of Oramos Cantando/We Pray in Song, and the other an interdenominational African American hymnal.
In 1993, he became the first recipient of the Father Lawrence Heimann Citation for lifetime contribution to church music and liturgy in the U.S., awarded by St. Joseph's College, Rensselaer, Indiana, and was named "Pastoral Musician of the Year–2000" by the National Association of Pastoral Musicians (NPM). At its 2006 conference, he was named a Fellow of the Hymn society in the United States and Canada, and in 2015 was named NPM's Chapter Director of the Year.
Bob is past-president of the Hymn Society in the United States and Canada, served as a member of the Council for the National Association of Pastoral Musicians, and was a member of the Music Advisory Committee of the Bishops Committee on the Liturgy which drafted the Bishops' document, Sing to the Lord: Music in Divine Worship.
He is very active in the music ministry of St. Francis de Sales Parish, Holland, MI, and is in his second term as chapter director of the NPM-Grand Rapids Chapter, which hosted the 2015 national convention.